From the Shop of
GLITTER, THE ELF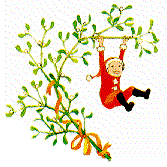 Hi!
I'm Glitter, one of Santa's elves and welcome to the North Pole in Cyberspace.
Santa has given us the word, Christmas is right around the corner. Everytime you go to bed and then get up the next morning, Christmas is one day closer!!! We elves are very busy making all sorts of things for Santa to deliver on Christmas Eve.
But don't forget, Santa needs your help. E-mail Santa your wish list. We can't make any promises but we sure will try to make you what you want. This is the best time of year for us. We love making toys. The bigger Santa's list is, the faster we work and the faster we work...the more fun we have. The elves and I hope you too will work hard in school and try to help a friend before Christmas. It is the best way to spread Christmas magic.
Some of the elves are loading Santa's sleigh, some are helping the reindeer practice flying again...it's been a whole year!
Make sure you spread some Christmas magic and Santa will see you Christmas Eve.
From Glitter and all the Elves
[ Up ] [ Glitter The Elf ] [ Santa ] [ Mrs Claus ] [ Rudolph ]