From the Kitchen of
MRS. CLAUS
Hello everyone,

Well, well ... it is Christmas time again, my favorite time of the year. I just finished making some gingerbread men for Santa. He loves the icing on them. My goodness, I almost forgot, but I have to make the gingerbread houses too. I make the gingerbread houses for decoration in the workshop and then the elves nibble at them as they work. Christmas Eve is so exciting and it is coming so quickly.
I am just about to get Santa's big Red Suit out. I need to press it and get him to try it on tonight to make sure it still fits. I might have to let it out if he eats all those gingerbread cookies like he did last year.
I am very happy that you stopped in to visit me here at the North Pole, as Santa calls. I hope you have already sent your email to Santa, he loves to read every letter that is sent to him - the more letters he gets the more excited he gets about Christmas coming.
Be good for your parents and make sure you're in bed on time Christmas Eve.
Don't forget to send Santa an e-mail with your Christmas wish list. He loves to read your letters. Take care, mind your teachers and most of all have a Merry, Merry Christmas.
From Mrs. Claus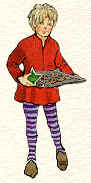 [ Up ] [ Glitter The Elf ] [ Santa ] [ Mrs Claus ] [ Rudolph ]